I must admit, I was a little late to the linen bedding party, but boy-oh-boy when I got there, did I make up for lost time!
There is no doubt Pip Vassett of IN BED STORE understands the true essence of comfort, the rituals associated with bed, and the sheer amount of time we intrinsically spend in there:
"We eat IN BED, kiss IN BED, talk, dance, love, fight and occasionally just sleep IN BED.
INBEDStore.com is for the one place we are sure to spend the most of our lives doing the things (and people) we love.
Inspired by sleep-ins, breakfast in bed and staying in your pyjamas all day, IN BED makes beautiful bedding from beautiful fabrics made to be lived in, loved in and snuggled up to. The kind of bedding that looks just as good unmade and undone as it does neatly tucked, and only gets better the more you use and love it."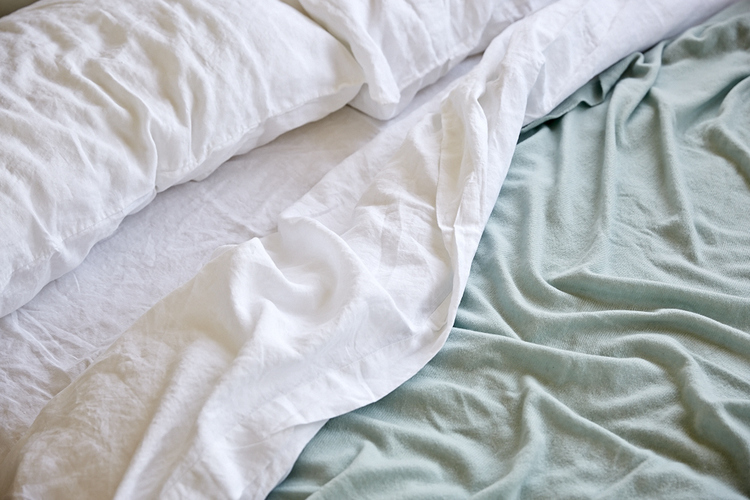 Pip recently invited my husband Chris and I to share OUR MORNING WITH IN BED STORE, asking us a few questions, so we thought it would be lovely to do the same and get Pip to answer her own questions for NEST | TOGETHER:
[ KARA TOWN ] Who are you?
[ PIP VASSETT ] Pip Vassett, founder of IN BED and general sleep enthusiast.
[ KT ] Where are you from?
[ PV ] Sydney
[ KT ] Where do you reside now?
[ PV ] Still Sydney. Potts Point to be precise.
[ KT ] What do you do?
[ PV ] I run bedding label IN BED and online store INBEDStore.com. This covers a wide variety of things from designing our ranges to dealing with suppliers, creating content for our journal & website and working on our campaigns and photo-shoots. It can be pretty varied to say the least!
[ KT ] Do you have any morning rituals & what are they (weekday & weekend)?
[ PV ] Monday to Friday it's generally burying my head in the pillows for 5 more minutes (three times), making breakfast for myself and my fiancé Eddie and rushing out the door before I'm inevitably late somewhere. On the weekends it's relaxed strolls around the harbor with a coffee and in summer driving up the coast to go swimming and hang around the beach for the day.
[KT ] What are your 5 favourite things?
[ PV ]
-Swimming in the ocean
-Weekend walks with Eddie
-Coffee
-Travel
-Long summer days
[ KT ] What can't you live without (and why)?
[ PV ] A touch boring to say but definitely Eddie and my family & friends. They're what it's all about really.
[ KT ] Favourite breakfast?
[ PV ] Avocado on toast, sometimes with a boiled egg if I'm feeling adventurous.
[ KT ] Favourite scent/smell?
[ PV ] Sunscreen
[ KT ] What's on your bedside table?
[ PV ] A candle, a book, an abundance of water.
[ KT ] Favourite sound to fall asleep to?
[ PV ] Rain
[ KT ] Tips for a restful nights sleep?
[ PV ] Don't drink coffee after midday. Don't pick up a phone or laptop after 9pm.
[ KT ] Tea or coffee?
[ PV ] Coffee in the morning…tea all day.
[ KT ] Best solution for Monday morning blues?
[ KT ] I'm pretty lucky in that I don't get an attack of the Monday morning blues too often. But when I do, I find it best to make sure I've got something to look forward to during the day. The fun stuff always helps you get through the not-so-fun stuff (hello tax return).
[ PV ] Favourite place on earth?
[ KT ] There's a few. Spoon Bay on the NSW Central Coast (home of many Vassett family holidays back in the day), Bingin beach in Bali and here at our little home in Potts Point.